iWeb2Cell, a division of ITWebTek, LLC
iWeb2Cell provides cost effective alternative to typical SMS packages sold by mobile providers across the globe. Using the web provides a cost effective way to send SMS messages to anyone in the world, and we pass on these cost savings to you.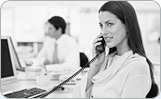 While cost effectiveness is our primary driver to provide you this service, we continue to enhance our website and features available to you at no additional cost beyond your monthly membership. We would love to hear your ideas of improvements by emailing

"...Iweb2Cell.com helps busy doctors office stay in touch with consulting physicians. 5 stars!..."

Dr Masterson
"...While twitter is trendy, iWebCell.com is a business solution for internet web communications. Outstanding product!..."

Mike
Why Choose Us
ITWebTek has 12 years experience in IT solutions
ITWebTek customer base is extensive in small business and non-profit organizations
Strong Focus on customer satisfaction
More than 100 Technology solutions serving DC Metro area
Our Advantages

Personal Touch
We believe the best business solutions evolve over close interactions with our customers. We will meet with you to review progress regularly until you are satisfied. We know that in-person and face-to-face meetings work better than faceless web and impersonal emails, documents, and web.